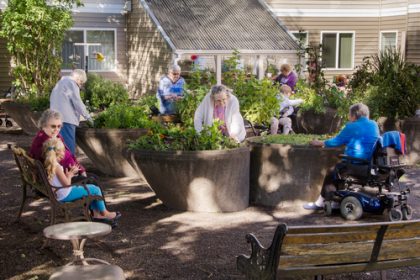 What comes to mind when you think about assisted living facilities? If you are investigating assisted living facilities for yourself, there are several perks associated with these.
As a motorcoach provider, we partner with various groups of people, and we always enjoy teaming up with seniors by providing our Rochester charter bus. Whether we are assisting a group on a sightseeing tour, or get to be the wheels for a getaway for an elderly group at a senior center, we are often grateful for the opportunity!If you're on the fence about whether or not assisted living is the right option for you (or your loved one), here are some of the things that we believe are good about these "homes away from home."
You probably had a family of your own and it didn't ever feel like the time would come when there wouldn't be someone around who needed something to eat. In assisted living, you get the best of both worlds: get three yummy meals each day without having to do any of the cooking or cleanup. You won't have to try to come up with menu options or eat the same thing day after day, either.
There's usually a nurse on hand. If you have a medical condition that worries you or you need help with bathing, medications, or any number of health obstacles, these facilities know that these things cause real concern and anxiety. They want their attendees to feel safe and know that, should any problem arise, they are trained to deal with it with efficiency and expertise. (This can be a huge source of relief for concerned loved ones, too.).
It's consistently nice to be spoiled every now and then, and a lot of senior citizen accommodations recognize how important this is and give a location for citizens to get their hair done and styled, and many more things. Despite our age, all of us want to feel and look our best.
And, as the years progress, we start to lose more of the ones with whom we walked in life. Sometimes this can be a lonely time, and assisted living locations are great for this. Organized walking groups, water aerobics, card games, musical performances, bingo, crafting, and discussion groups are just some of the things that may be offered to help make loneliness a null issue.
If you live in assisted living, they do just that– assist you. Assisted living means you can rest assured, knowing that they will take care of these things for you.
All of these are just a number of the things we determine are great about residing in a place where the full focus is on serving the senior community. Each stage of life specifies in its needs. You might have certain concerns that you need appeased, too, that make it worthwhile to shop around and see what centers are readily available. They vary in price and in what types of programs they offer, so you can spend time searching for the one that fits your needs and would be a place where you'll feel most at ease.
We always appreciate collaborating with senior groups and providing our Rochester charter bus as well as the opportunity to interact with you. We wish you the best of luck as you explore your choices and find the assisted living situation that will work well for you.