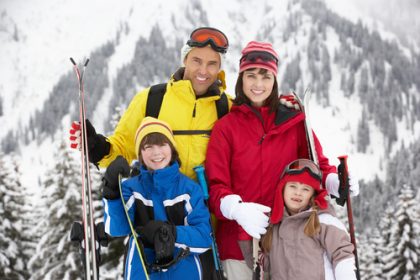 Beginning as tiny babies, we learn, grow, and become independent by seeing our parents. It is from them that we learn elemental life skills, including the behaviors we adopt when interacting with the world: social cues, manners, and the way we communicate with people. This is typically also manifest by perpetuity of social class, political moorings, and religious dispositions, too. Our little people mimic us and take what they are knowing as they develop.
If this is true for all the major things in life, it certainly is true for some of the lighter things. We tend to share what we love with our kids, and that includes our passions and hobbies.
When it comes to family activities, we think it doesn't get much better than hitting the slopes and navigating through fresh powder together. There's no doubt about it; we think there are several benefits to being a skiing family, not the least of which are the following points.
Even when you've mastered the basic technique, there are incremental skill levels to be obtained and you can become better and better as time goes on. Even though you are doing this because it's something you enjoy, skiing can help you teach your children that life is like that, too. Rather, you have to master the basics and put in the time to familiarize yourself with the skill and then improve gradually over time.
Second, it cultivates a healthy, active lifestyle and an appreciation for the environment. Deciding to be dynamic as a family leads to overall better health and allows instill a desire to choose movement when it's time to cut loose from the everyday routine and relax. And what about providing your kids the gift of beautiful mornings with blue skies, fresh powder and crisp air? Putting your kids in this particular sort of scenario helps engender in them a love for nature and beauty that can't be duplicated any other way.
Third, skiing helps them engage in something that's real. In ways that we can't even fully appreciate, our children are growing up in this world, and they spend more and more time "plugged in," and less time interacting in real-time, engaging with actual people, learning how to have important conversations face to face, and polite behaviors that might, nowadays, be considered old fashioned. Skiing is a great way to facilitate this!
As a final point, as it enters into your family culture and something that you've done for years, it will become more than just a sporting activity you appreciate. This task will be associated with time with those you love, and the source of many cherished memories. Maybe it will remind the time you spent in the Rockies one Christmas, when your grandparents rented a Rochester Charter Bus and the entire family taken a trip together and stayed at a 5-star hotel while enjoying a 5-star ski resort at the same time. Maybe you'll look through family photos and see your dad wearing the ski bibs you recall him wearing as a child, and see your 7-year-old crooked grin looking back at you. The truth is: apart from the physical advantages, life lessons and all that jazz, it will develop for you a reservoir of time with those you love that you'll never cry over.
While we're guaranteed you could list the factors that enter your mind when you speak about why you love skiing with your family, these kinds of are just some of the points we thought about. Skiing all together with Rochester Charter Bus is a great way to have a great time, stay healthy, and get the most out of today in order that your memories are pleasing for tomorrow.