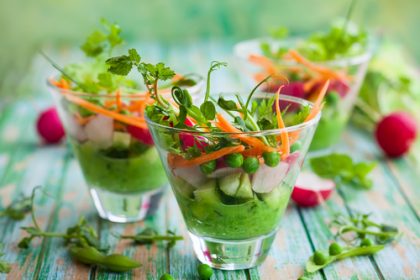 Food is beyond just calories; it's a process of bringing people together, and it's an infinite avenue of creativity: merging flavors, experimenting new combinations, applying fresh, seasonal ingredients to enjoy food throughout the year. If you're a foodie and you garden on the side, it's fun to pull stuff from the dirt, head into your house, wash it off, and set to mincing and mixing things up. If checking this makes you hunker down and howl cuz it reproduces with a hobby you're excited about, let's just explain seasonal meals for a minute. For most of the year, you can harvest something you've been growing and use it in what you eat. Winter may be the exception here, except if you're a greenhouse guru or make safety tunnels and continuously harvest long after most of us are finished. But, without more ado, let's speak about options for dinner parties in spring, summer, winter, or fall.
SPRING SEASON
Come spring, it's not moment to break out the BBQ and paper plates yet, yet it still could be nice to not serve something as warm and heavy as you would in, say, January. Our suggestion? How about salmon fillets, broiled to perfection? When you pull them out of the oven, slice a few lemons and squeeze fresh juice all over those babies. Get a good cracked pepper and sea salt blend and shake some of that sass on top. As for what to serve on to, go out to the garden and harvest fresh lettuce, spinach, and peas from the dirt, and if you grew strawberries, pluck some of the first juicy, sweet ones. Come inside to create a simple spring salad of greens, strawberries, peas, jicama, and clementine sections, tossing it all as well as a just-slightly-tangy citrus vinaigrette. Bake some dinner rolls on the side and provide for them warm with salted butter. And, to top it all off? Make a wonderful rhubarb custard pie with a lattice top from your hearty rhubarb plant. (But yeah, do that the night prior to so it's nice and cool and serve it with a high quality vanilla bean ice cream. The sweet and tart combo is killer.).
SUMMER SEASON
Absolutely nothing says summertime fairly like the smell of something cooking on the grill. And, with all the crops that begin in the warmer months, there are plenty of selections of what you can make to associate BBQ chicken or a juicy burger or steak. Utilize your homegrown cucumbers, tomatoes, onions, and bell peppers to add some yummy flavor and crunch to a crisp green salad. Throw the tomatoes and peppers and onions together for fresh salsa with tortilla chips (they make a good appetizer while you're waiting for food … just sayin).
Make some bread dough in the afternoon and let it rise for the next couple of hours. Add a layer of cheese and fresh sliced tomatoes from the garden.
There's nothing quite like a simple, straight up, unadulterated vanilla bean ice cream, and it's easy to make, too. It may not be the first pairing you think of, but cantaloupe and ice cream are delicious together. As you're sitting there with those you love under the patio lights, talking while enjoying something sweet and watching the stars come out, you'll likely experience one of those life-is-so-so-good moments, the kind you just want to hold in your pocket because its warmth makes you happy.
FALL SEASON
And the food? The food is where it's at. It's not freezing out, yet, but it isn't summer anymore, either, and the cooler evenings make it appropriate to serve something warm again.
How about certain roasted pork tenderloin with an apricot glaze, a quinoa pilaf, and a pan of roasted beets and butternut squash (the colors will be gorgeous together) from your garden? Throw up a fresh salad of greens, tart, thinly-sliced Jonathan apples from the orchard, craisins, cashews, pear, and Swiss cheese, tossed with a light vinaigrette.
To complement the sweet glaze on the tenderloin, make some cranberry orange scones, and don't stint the butter, either in the dough or for serving. There is almost nothing as elegant as warm bread, and this is home cooking like nothing else when the nights are getting cooler.
To finish it off, take some more of those tart apples you got at the orchard stand and make an apple pie. Serve them by pouring some cool cream on top and a scoop of ice cream on the side or a slice of warm gingerbread.
WINTER SEASON
Snow falling, fires glowing, and candles burning make for some cozy times around the table. Something about the cooler temps makes you want food that's hearty. How about the classic meal of roast with scratch gravy, served up with a pan of roasted carrots, parsnips, and red potatoes (the end of what you've got stored from your garden pickings)?
For something that is rich but doesn't sit as heavy, get some butternut squash leftover from the garden, bake it, dig the soft insides, and make that into a delectable, melt-on-your-tongue soup by including butter, cream, and spices, too. Present it with a salad made from pomegranates (hello, it's December, and they're back!), apples, and sweetened whipped cream. No matter what entrée you utilize, make a loaf of artisan bread, that delicious crusty-on-the-outside, dense-and-soft-on-the-inside combo. Always a great idea to serve something that clings to your ribs when the wind is a' blowin outside.
And when it goes to dessert, no need to be shy. A warmer night in calls for pulling out all the stops. Some opinions? A fudgy, triple-layer chocolate cake with buttery, sweet goodness spread between each layer. Blackberry bread pudding served with scratch vanilla pudding and cream on the top. A classic, rich cheesecake with a pecan and graham cracker crust, with some fresh berry sauce additional. Or, there's always a lemon pound cake, served with a lemon glaze and fresh blueberry sauce and whipped cream.
Using fresh ingredients on hand, there's no reason to be bland with food. There are endless options, and sharing food together is just another way to experience joy.
And, if you've run out of your own ideas and want some new culinary inspiration, consider booking a food tour with our Rochester charter bus! These tours with Rochester charter bus are great for being exposed to new flavors, taste testing, and finding out new techniques. When you want to add new recipes to your repertoire, call us today!