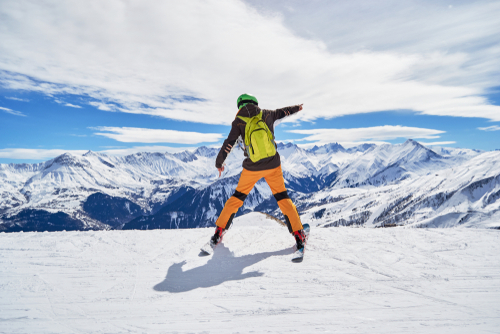 In 2012, Warren Miller, the man widely known by ski enthusiasts for his films advertising the sport, sat down with Neal Thompson to talk about his career and tell some of the background of how it all began. For anyone who loves to ski, it's exciting to hear someone talk about the sport with that type of passion, and it's interesting to become better familiarized with some of the behind-the-scenes that made up this man's story.
Warren talks about how, as a Boy Scout, he had purchased a Univex camera for a mere 35 cents. Upon his return home, he'd show these small pictures to other friends who were busy in sports and other things (not Boy Scouts).
After getting out of the army in World War II, he got an 8 mm camera, and the pictures that he took of himself and friends were actually with the intent of assessment their own skiing so they could determine what they were doing and then try to make improvements to. After his first season of skiing in Sun Valley, ID, he returned to California and showed the pictures that he 'd taken of them learning how to ski to his surfer friends. Showing what it looked like to be on skis in snow in the mountains must have been intriguing and foreign!
Any other fun facts?
When Warren first began making films, ski resorts were a far cry from what they are today. Well, to begin with, when he first began what became his trademark work, there were only 15!
One of the amazing things he talks about in the interview is how he worked out a deal showing his film to 50,000 people in a year, in the past. Today, with the developments in technology, any of us can shoot video on the mountain with our iPhones, add a filter if we want, and upload it or send it to a ton of people, promptly. When he began his work, what did he have to do to make it available to lots of people? He 'd show a film to about 500 people a night. To show it to 50,000 people in a year, that meant he had to do 100 nights, traveling from location to location and putting together his show. After making this comparison, he said, simply: "That's how much time has gotten condensed."
While many of us haven't spent our professional lives working in the ski industry like Warren Miller, we can still enjoy fresh powder and the way it makes a day on the slopes completely epic. We love offering transportation to the slopes for large groups. Whether you are taking the whole office, going with the extended family for a reunion over Christmas vacation, or need to take a group of 8th graders up for a day school trip, we are here to help thru our Rochester Charter Bus. Any day that we can help with joy in the open airs is a good day in our books. Why? Because we believe, as Warren quipped in his interview with Neal, "When you get to the bottom of a hill, you're a completely different person than when you left the top." Call us today and book our Rochester Charter Bus!
* To watch the interview and learn more, visit here:
https://m.youtube.com/watch?v=3EM_NWs86FU
(This interview is where the information in this article originated from.)