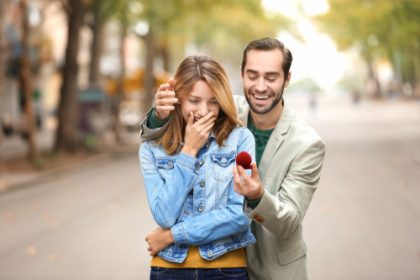 You've fallen in love and can't wait any longer: it's time to ask the girl of your dreams to marry you. You've put a deposit down, ordered it, and now all that's left is to figure out the things to do in Niagara falls and how you're going to ask her.
All of us have moments we'll never forget when we look back on our lives. It may have been heading to the championship game of the NBA finals where your favorite team was playing and they won, or what are the things to do in Niagara falls, or maybe it was when you figured out you had passed the bar exam and were officially an attorney. It could have been getting a date with that girl you thought would never give you the time of day, or getting and having connections to drive a Ferrari for the very first time on a speedway. Bottom line? When a dream is being fulfilled or something momentous is happening, we want it to be everything we imagined it would be.
Maybe you want to go big by asking her in a hot air balloon ride over a city lit up at night. Or, there's always the opportunity of mundane and ordinary: asking her whilst in the middle of eating a sandwich as you walk together across campus. Some folks wonder what are the things to do in Niagara falls or how they are going to ask their sweetheart in the middle of a crowded metropolitan city, while others would prefer to be out in the middle of nowhere in the desert, under a night sky that's littered with stars.
The above examples offer several different asking approaches, but we think we've come up with an even better one. Have you ever heard of someone getting engaged in a motorcoach? It isn't exactly the romantic venue you picture when you're asking someone to marry you.
To begin with, she'll never expect it to happen on a coach, so you can capitalize on the element of surprise. Most women are going to imagine somewhere quiet and personal, a location that's sentimental, and maybe a nice dinner, candles, or chocolate and roses.
Next, because it's not something traditional, you'll have to employ some ingenuity to make it romantic. And when you're creating the environment, it's probably going to be more personal and have more meaning, two things that will keep it more memorable.
Third, the coach itself is symbolic of what you're asking her to do: go on a journey with you. Experience life together, experience things, metaphorically go to new places and encounter new hurdles and opportunities. Coaches take people from Point A to Point B, and you're asking her to do the same thing with you– start here, and go ahead into the future together.
Fourth, capitalize on the fact that you're on a coach and have the driver ask her over the PA system for you! Again, employ the element of surprise (and don't tell anyone else on the coach what's going down, either).
Once they're all there, you go and get her and head to the same place, riding in the coach. While en route, ask her to marry you. Use that same coach to get everyone back down the canyon to their own cars after a super fun night of celebrating this huge decision of commitment the two of you have made.
Asking her in a coach is a good gig and want to figure out what are the things to do in Niagara falls? Call us today for a great rate, and allow us to be part of one of the most important events of your life!