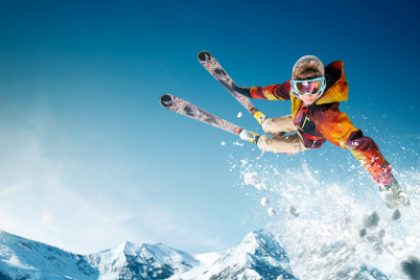 If you obtain an affinity for that cold, white powdery stuff on the mountains in the wintertime, you most likely get an itch to check out the slopes once it flies. And, if you're "in the know" in the industry, you'll likely determine some of the individuals highlighted in this post. While they are each known for separate things, one thing unites them: their interest for snow sports!
Doug Coombs: A "steep" in skiing refers to any slope with a pitch greater than 45 degrees, and Doug Coombs loved them. He is one of the exceptional in skiing steeps and is quoted as saying, "There is no such thing as too much snow." He married Emily Coombs and jointly they opened the Doug Coombs Steep Skiing Camps Worldwide in the United States. They afterwards moved their business to Europe because there were fewer "red tape" safety regulations that they had to abide by on the slopes. He worked to direct others down steeps, mentoring and broadening their ski experiences. In April of 2006, while skiing with friends in France, one of them fell off a cliff. Doug also fell to his death while trying to locate and help him. Even if he's been gone for more than 10 years now, his legacy continues. Created in 2013, the Doug Coombs Foundation prioritizes blending social classes by offering children who can't afford it the possibility to enjoy excursion in the outdoors. Coombs was a man of grit, discipline and determination. To check out more about his story and his legacy that continues today, visit dougcoombsfoundation.com or look into the biography of his life, Tracking the Wild Coomba by Robert Cocuzzo.
Kim Reichhelm: A woman who has made a name for herself in adventure skiing, Kim founded Women's Ski Adventures in 1989 to help women have a good time on skis and improve their technique, and later started Steep Skiing Camps geared toward offering exciting opportunities for expert skiers who want to take it to the next level. She was a winner of the World Extreme Skiing Championship twice, and is also known for dominating the North American, South American, and World Extreme Skiing titles all within the same year. She has worked in the industry for all of her professional life, and she organizes heliskiing adventures for groups in Chile, Japan, Iceland, and Alaska. She's strong, independent, and dedicated, and you can find out more about her (or ski with her!) at skiwithkim.com
Jake Burton Carpenter: This guy is kind of the father of modern snowboarding. He founded Burton snowboards in 1977, and named the company after his middle name. The design of his snowboard began as a spoof on what was known as the "Snurfer," a single board with a rope attached. In the beginning he built each board by hand, with the first board sporting aluminum fins at the back (which were later replaced by refining the board edges).
http://www.nytimes.com/2015/12/29/sports/jake-burton-carpenter-paralyzed-snowboard-executive-trail-of-anguish-and-hope.html?_r=0burton.comchill.org
https://m.youtube.com/watch?v=-tciLFry5Ww
https://m.youtube.com/watch?v=K4JoU8W3c2w
Alf Engen: Born in Norway, Alf was known as a ski jumper when he came to the United States at the age of 19. He became involved at Alta Ski Resort, and was engaged with the ski school there. Alf won many ski awards, coached the 1948 United States Olympic team in Switzerland, and worked with the Deseret News Free Ski School.
https://m.youtube.com/watch?v=3LWvbg57uJMh
https://m.youtube.com/watch?v=zJ4VZiWTlmI
https://m.youtube.com/watch?v=GJDktpAFxxk.
A lot of us don't ski with the same level of intensity, life dedication, and passion as these four folks, but it's also something we love and enjoy doing solo or with friends and family. Let Bedore Tours come along for the ride and provide transportation if you've organized a group ski trip. Taking a Bedore Tours for this kind of outing is appropriate because we have appropriate storage for all the gear you've got, there's power and WiFi on board for when you're in transit, and it's wonderful to have someone on hand to do the driving when you're tired at the end of a great day on the slopes. We love being part of the adventure and fun that's on your calendar, so get in touch with us today!